One of the questions on the online Mormonism 101: FAQ is, "What is the position of the Church regarding race relations?" Answer: "The gospel of Jesus Christ is for everyone.   The Book of Mormon states, 'Black and white, bond and free, male and female; … all are alike unto God' (2 Nephi 26:33).   This is the Church's official teaching. …The Church unequivocally condemns racism, including any and all past racism by individuals both inside and outside the Church. … Let us all recognize that each of us is a son or daughter of our Father in Heaven, who loves all of His children."
And yet, there is still controversy over this matter, especially in an election year that features the first LDS GOP nominee for president.  In March 2012, a lengthy article in the Washington Post explored these themes in some detail.  While noting the Church's stand as described above, the article features an interview with Professor Randy Bott of Brigham Young University, who suggested to the Washington Post reporter that blacks were descendants of Cain, and thus barred by the Lord from holding the priesthood.  He went on to opine,
"'God has always been discriminatory' when it comes to whom he grants the authority of the priesthood, says Bott, the BYU theologian. He quotes Mormon scripture that states that the Lord gives to people 'all that he seeth fit.' Bott compares blacks with a young child prematurely asking for the keys to her father's car, and explains that similarly until 1978, the Lord determined that blacks were not yet ready for the priesthood."
Reaction to Bott's statements by the LDS community was both swift and unanimously condemnatory, from Bott's dean to students and faculty on the campus.  And as the article goes on to note, "Romney has said he pulled his car over to the side of the road to weep with joy upon learning of the lifting of the ban [in 1978]. "Even at this day it's emotional," he said in 2007 on "Meet the Press."
Given this complicated historical relationship between blacks and the LDS Church—for example, Joseph Smith ordained a black man to the priesthood, while Brigham Young prohibited the practice out to 1/64th relationship—one would surely think that a visit by Booker T. Washington to Salt Lake City almost exactly a hundred years ago would have been studied intensively.  But that is not the case. I daresay most Mormons do not even know this visit took place, for I surely did not.
I first learned of this visit through Gerald E. Jones, a retired LDS Church Educational System Institute Director at Stanford, UC Berkeley and Yale, who introduced me to The Booker T. Washington Papers, Volume 12:1912-14, eds. Louis R. Harland and Raymond W. Smock (University of Illinois Press, 1982).  While reading Vol. 12, he was surprised to find upon reading pages 149 – 153 that Booker T. Washington had made a two-day visit to Salt Lake City in March 1913 and had sent his written account to the Editor of the New York Age for publication.  Jones also noted that a recently published book about Mormons and African-Americans that had also been published by the University of Illinois Press made no reference to this 1913 visit of Washington to Salt Lake City either. 
Booker T. Washington was a very influential figure during his time. Born as a slave in Virginia is 1856, he became a nationally celebrated educator, author, and orator. One biography notes, "He was the dominant figure in the African- American community in the United States from 1890 to 1915.  Representative of the last generation of black leaders born in slavery, he spoke on behalf of blacks living in the south." His name is forever linked with the Tuskegee Institute, which he headed for thirty-four years. He died in 1915, two years after his visit to Salt Lake City.
Here are the pertinent excerpts from Washington's journals, which apparently were published in the New York Age: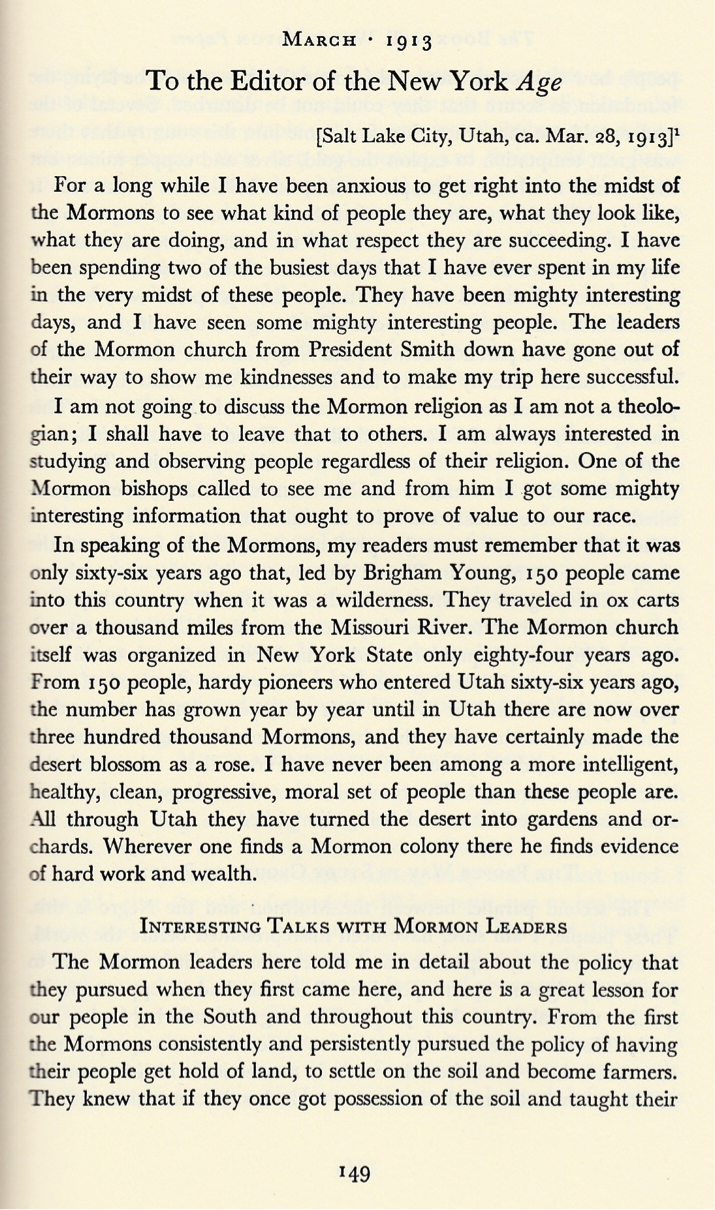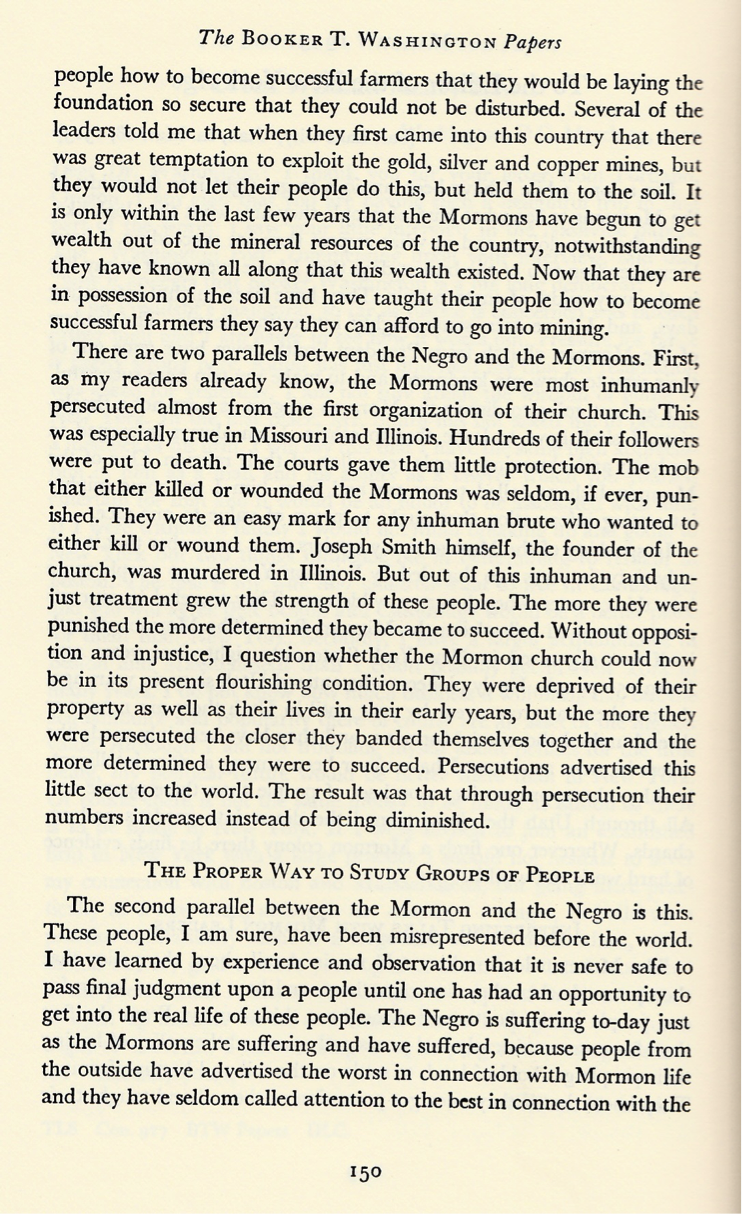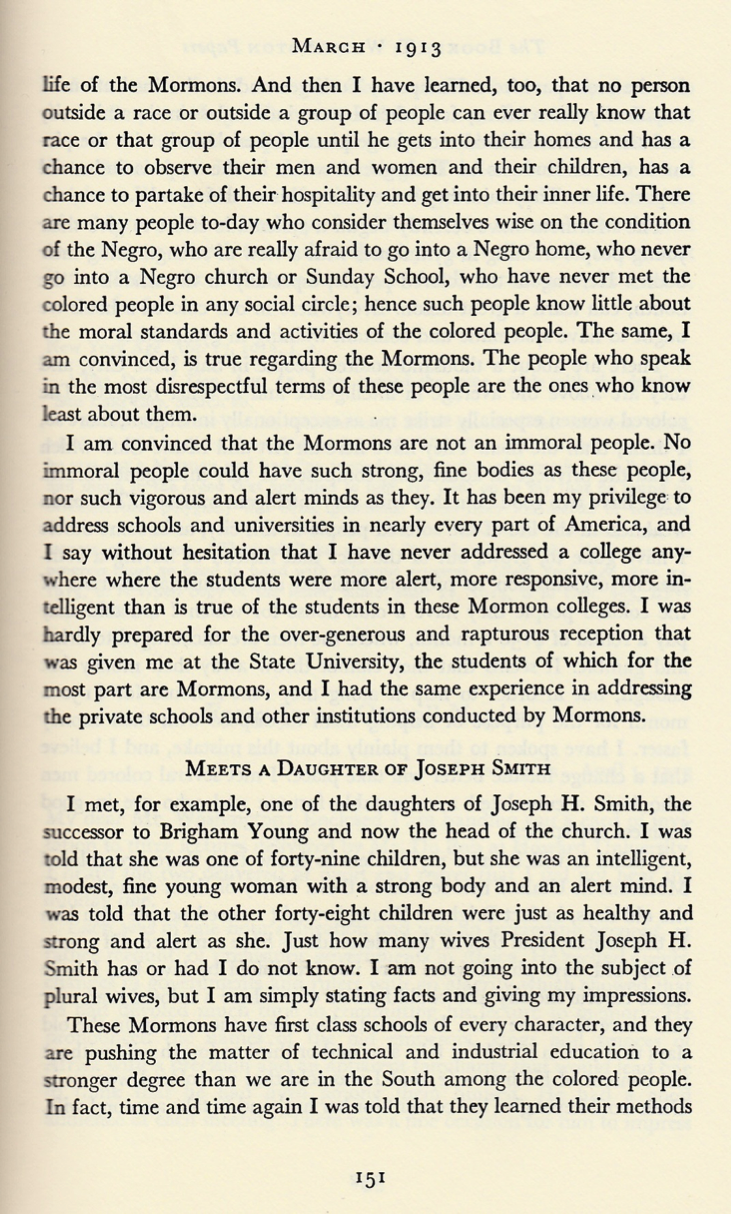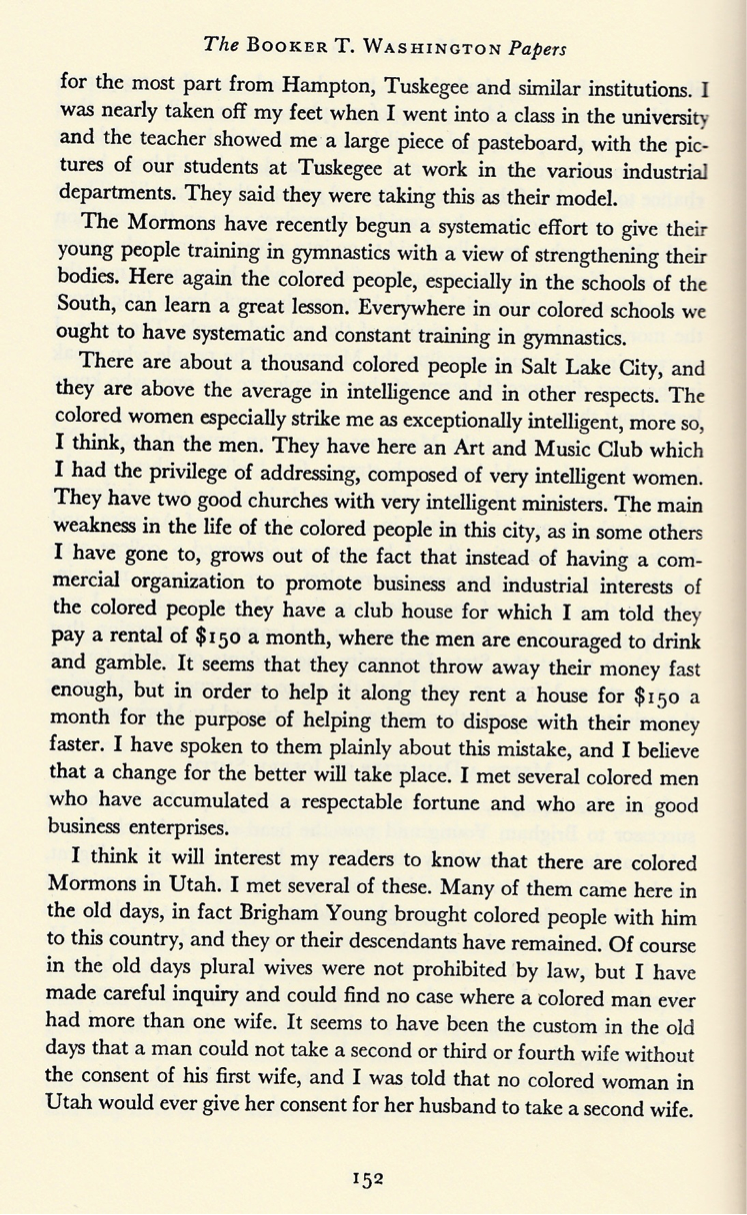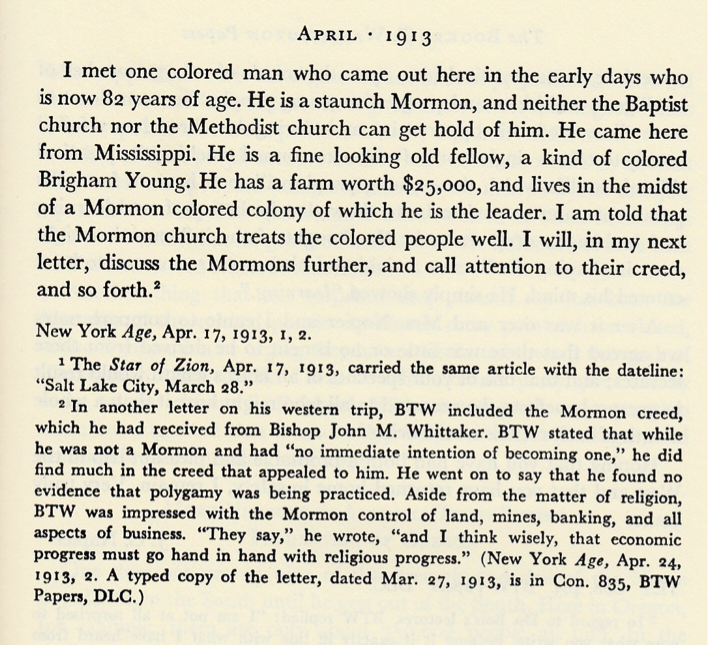 It appears that President Joseph F. Smith and the other church leaders who interacted with Booker T. Washington when he visited Utah in 1913 were adhering to the same principles stated by President Gordon B. Hinckley in 2006 and restated by the Church on its official website in 2012:
"The Church unequivocally condemns racism, including any and all past racism by individuals both inside and outside the Church. In 2006, then Church president Gordon B. Hinckley declared that 'no man who makes disparaging remarks concerning those of another race can consider himself a true disciple of Christ. Nor can he consider himself to be in harmony with the teachings of the Church. Let us all recognize that each of us is a son or daughter of our Father in Heaven, who loves all of His children.'"
Because President Obama is an African-American, and the 2012 election will likely be very competitive and contentious, it is possible that political hay will be made of the complicated historical story of blacks and the LDS Church.  For this reason, I think it is important that more Americans to have an opportunity to read Booker T. Washington's words about his experiences with Mormons and about Mormonism as a religion nearly a century ago, which words have been all but lost over the past century.


Full Citation for this Article: Hansen, Gary B. (2012) "Booker T. Washington Meets the Mormons," SquareTwo, Vol. 5 No. 2 (Summer), http://squaretwo.org/Sq2ArticleHansenBookerTWashington.html, [give access date]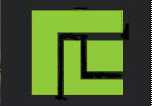 Would you like to comment on this article? Thoughtful, faithful comments of at least 200 words are welcome. Please submit to SquareTwo.
1. Brooks Wilson
Conventional wisdom holds that The Church of Latter-day Saints has an unusually racist past that persists today despite the 1978 proclamation opening the priesthood to all worthy males, missionary outreach to minority groups in the United States, the Caribbean and Africa, and repeated denunciations of racism by Gordon B. Hinckley and his successor, Thomas S. Monson.  When challenged with exaggerated claims by students Thomas Sowell, an economist by training, often asks "compared to what?"
Booker T. Washington's visit provides glimpses into early twentieth century race relations in Utah, only glimpses in part due to the length of the visit.  During this visit, he observed, a "parallel between the Mormon and the Negro:" they have both "been misrepresented before the world." 
While reading Washington's article, I made notes in three columns on statements I found positive, negative and possible areas for additional research.  Positive parts of the narrative include cordial treatment from President Joseph F. Smith, a visit by a Mormon bishop, a visit with a daughter of President Smith.  The most positive and moving part of the narration was about the integration of curriculum from the Tuskegee Institute, a black college that Washington headed, into high schools and universities.  Washington said, "I was nearly taken off my feet when I went into a class…and the teacher showed me a large piece of pasteboard, with the pictures our students at Tuskegee at work…"  A racist teacher would have found another white college that had introduced Tuskegee's teaching methods.  An instructor worried about the acceptance of ideas from a black college among his own racist students might have used a pasteboard without pictures of black students.  Also positive was description of the treatment of both black citizens and black members.  He found blacks in Salt Lake City "above average in intelligence and in other respects."  A badly abused population would have trouble obtaining resources to educate and feed itself.  Washington believed that blacks in Utah could successfully accumulate wealth, not the sign of a badly abused population.
As I read of that treatment, part of Sowell's question is answered.  Compared to other places, blacks were treated well in the LDS community compared to other places but Washington's description hints at possible racism.  He speaks of meeting with a black man who was the leader of a black Mormon colony.  A number of troubling questions come to mind. 
At this point, my questions that might be answered by future research begin.  Were black members segregated from white?  Black members would have been included in white congregations, but did a physical separation in the community make attendance difficult or impossible?  Salt Lake City had a population of about 70,000 in 2012.  Did Salt Lake City have a higher concentration of blacks than other Western or Northern cities?  Did blacks vote with their feet to live in this city suggesting that it was relatively enlightened on matters of race?  Were public schools integrated? 
Another line of questioning also comes to mind.  Blacks are not the only race to experience persecution, both legal and extralegal.  Were Hispanics, Asians and other groups welcomed into Utah and the Church?  Did the Church look for leaders for its foreign branches among local populations?  How did our treatment of not just blacks, but other minorities compare to the treatment they received by other religions?  Washington's article suggests that we did well by comparison.  Nephi declares, "Black and white, bond and free, male and female; … all are alike unto God" (2 Nephi 26:33);" how much absolute progress have we made toward this goal?